Date/Time
Date(s) - 31 Jul - 01 Aug
6:00 am - 4:00 pm
Location
Zermatt
Cost
Free
Cancelled -Please check out our other events.
Glacier Trekking over the Gorner Glacier to the new Monte Rosa Hut which is one of the most modern huts in the Alps and a milestone in the history of Alpine Refuges. Here you can experience the highest peaks in the Alps and the glacier world up close and personal without having to go to the lengths of climbing the Matterhorn.
On day 1 an easy train ride to the Station Rotenboden on the Gornergrat train. From here you can enjoy the views before walking to the Gorner Glacier where your adventure begins as you put on your Crampons and Harnesses and get roped together to walk over the glacier to the Monte Rosa Hut (2883m). Once arriving at the hut you can enjoy the sunshine on the terrace or a nice beer in the warmth of the hut (if the weather isn't so friendly). The surroundings are guaranteed to take your breath away irrespective of the weather.
The second day will take you on an impressive hike over the Gornerglacier to the Furi station above Zermatt. Here you can take the Cable Car back down to Zermatt for a stroll through the village. With good conditions, it might also be possible to walk along the glacier until shortly before the glaciers end alongside Glacial lakes, moraines and seracs before leaving the glacier and walking on hiking trails to Furi.
Who is this for?
This is for anyone who would like to get up close to the glacier word and can talk for 4 to 6 hours at a slow pace. You should be steady on your feet and want an adventure, but you do not need to be particularly sporty to participate in this glacier trek. If you enjoy going for the occasional hike in the mountains this should be for you. (T3 to T4) any difficult places will be made safe by your mountain guide.
While no specific Alpine skills are required, you will need to walk roped up for safety reasons or you may need to use crampons when walking on the ice to ensure a secure foothold.
Accommodation:
Monte Rosa Hut – SAC Hut accommodation, shared dorm rooms. "Massenlager"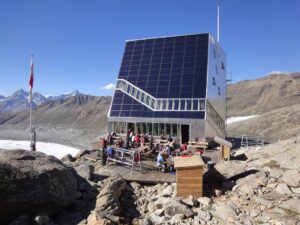 Meeting Point:
We will meet our mountain guide at 10:13 am at the Zermatt Train Station
Cost:
425 (Included, Guide, Overnight in Monte Rosa Hut, Evening Meal and Breakfast)
Payment:
Payment is due at the time of registration. Payment details will be emailed to you as soon as you make your booking.
Refund Policy:
As we have taken a firm booking on the number of attendees the course fee is non-refundable. However, your place on the course is interchangeable. If for some reason you can't attend the course we will offer your place to the next person on the waiting list. Once this person has confirmed their place and paid their deposit I will return your fee. I can only return the fee if your place on the course is filled by another participant.
It is possible to get cancellation insurance with the main insurance companies. (we recommend cancellation insurance in the unlikely event you will be unable to attend last minute)
What is included:
• Mountain Guide
• Overnight accommodation (Saturday night)
• Evening meal and Breakfast
N.B. Travel to Gornergrat (Station Roten Boden), return from Zermatt, Cable Car from Furi to Zermatt and rental equipment are not included in the price.
Special:
For this tour, you will need a climbing harness and crampons.
Rental Equipment:
Equipment required for this tour can be rented from Ruedi Bergsport in Zurich Wiedikon.
* Climbing Harness
* Ice Axe
* Crampons
Insurance is the responsibility of the participant, by RSVPing "yes" you agree to act responsibly at all times on this event and to not hold Swiss Alpine Adventure or any person involved responsible for any injury or loss which may occur in relation to the event.

We also encourage participants to have cancellation insurance in case they can not attend events at the last minute due to illness, injury or any other reasons. We cannot give refunds for cancellations within the last 30 days before the event starts.
Disclaimer:
All participants take part in events or activities facilitated by Swiss Alpine Adventure entirely at their own risk. Swiss Alpine Adventure does not accept liability for damage to property, death or personal injury that may occur whilst taking part in activities or events organized by Swiss Alpine Adventure. It is your responsibility to make sure your equipment is maintained and in safe working order. We reserve the right to stop you from participating with us if your equipment is badly maintained or not in safe working order. Whilst we endeavour to make sure that the information on this website pertaining to routes and trails is correct, we do not warrant its completeness or accuracy.
Bookings
Currently 0 bookings are pending for this event
Please remember to log in prior to making a booking for an event if you are already registered with us.
Online bookings are not available for this event.
Categories