Gear (pseudo) review - 360 camera: Insta360 One X2
DISCLAIMER: By no means it is a full fledged review, as I do not have too much of an experience with action cams, 360 cams or even video editing, but I thought I share some thoughts along with some examples.
WHAT: Insta360 One X2 with several accessories (remote, mounts, "invisible stick/tripod")
WHY: I was thinking about action cam for some time already, but 2 things have always put me away: 1. "what can I do differently/more interesting than the rest few million GoPro users", 2. You need to devote time for editing. While by no means it will sort the 1st problem, and definitely not the 2nd one (it actually makes even more complicated - read on), I still decided to pull the trigger on Insta360 One X2. Why? Well, simply because most of reviews were very positive, gives you more flexibility on shooting, and bought during the sale on Digitec (was 422 SFr.)
SETUP: Insta360 One X2 camera with mounts on handlebar, chest mount and helmet mount (all was in a package of Insta360 Bike Bundle, which I bought directly from Insta360 web site, since it was cheaper than anywhere in Switzerland) . I will not list the specs, as you can see that on official site and see all professional reviews
WHERE: I bought it primarily for biking (all types), perhaps sometimes for fun family videos, maybe will bring to vacation and etc. I know, the most of it will never materialize, and I will never become Youtube star ? , so I would consider that as "another toy to play with for some time"
HOW: as said before, I am complete noob in action cams and video editing
PROS:
No big setup is needed, pretty much plug-and-play
No need to setup shooting angle - all happens in post processing
Insta360 desktop app ("studio") is not destructive - you can play along with many variants on the same file
With small adapter fits GoPro accessories (just no all will be useful, due to 360 shooting)
Pretty fast and so far was pretty stable
Pretty useful mobile app for basic editing
CONS:
Desktop app is only for framing and cutting, all the rest needs to be done in "standard" video editing applications (Adobe Premier has even plug in)
Lenses are fragile, and due to setup (on both sides), you have to have a protector otherwise it will scratch immediately. I bought lens guards (sticky plastics on top) plus rubber protector - let's see if that helps.
Some accessories a bit wobbly/plasticky...
Due to the shape, some mounts look a bot weird or misbalanced (i.e. on helmet)
I am not sure if that is only mine, but remote battery runs out very fast
OVERALL: so far so goods, still playing with setup, trying different angles, learning editing. Few shots for comparison from different mounting points:
Handle bar mount - probably good if you are riding alone or with your friend in front, as allows to shoot in front as well as yourself (spoiler - I am not photogenic ? ):
Chest mount - more or less "GoPro style", as effectively you can use only one angle:
Helmet mount - gives you an ability to frame all 360, especially if your friend riding at the back (I was alone, hence only front framing), and some Youtubers say, that it gives you better steepness perception than GoPro "flat" on any mounting. But I am not sure - you judge:
So which one you like more?
Posted : 12/05/2021 8:44 pm
Cheers for that @piksinis, I've taken the liberty of editing the post to sort out the youtube embedding. The forum is set up that if you just put in a youtube link on a line on its own it should automatically embed the video. Great review thanks for sharing it. 
Swiss Outdoor Sports events for an international audience
Posted : 13/05/2021 10:19 am
The handlebars look a little distorted in the handlebar mount, but it's cool that you can have different views. I wonder how would the bullet time stick work fixed to your helmet. Could be interesting, but you'd look like an idiot going down the trail and probably not fit through narrow gaps in the trees.
I think with a bit of imagination you could do some cool things with these cameras, but I'm not sure that biking is a sport where you can exploit their full potential with unless perhaps riding in a group... or maybe you are more imaginative than me.
Here are some other cool pics I've seen using a 360 camera:
or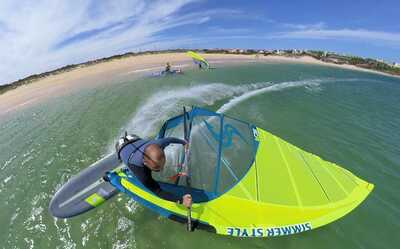 Anyone else seen cool uses for 360 cameras or have ideas on how to get creative with one? (Or with drones or any other photo or video toys for that matter)
A sociable outdoor sports freak who enjoys getting out on the mountains and lakes as often as possible.
Posted : 13/05/2021 12:39 pm