Date/Time
Date(s) - 10 Jun
6:00 pm - 8:30 pm
Location
Harbour Beach, Zug
Cost
CHF65.00
For those of you who have tried windsurfing in the past and would like the opportunity to get out and practice with some coaching/supervision, we will bring the Swiss Alpine Adventure/Wannabe Watersports to the lake for you to enjoy a relaxed Friday evening practising your windsurfing skills.
Equipment will be available from 6 pm (or maybe even a little before) until about 20:30 when we will need to get the equipment off the water to try and ensure that we can pack it up with some light left.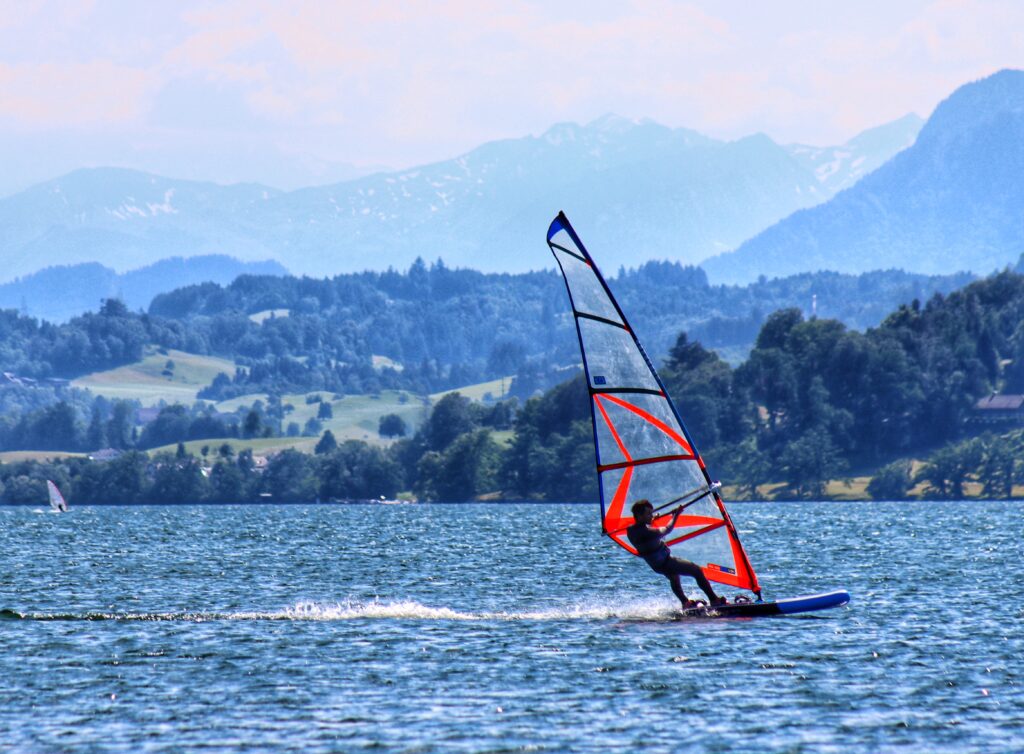 We can offer sail sizes from 3.2m to 6.5m depending on experience levels and wind strength. It would be great if you could let us know your rough experience level in the comments box when registering for the event so we can ensure that we bring the correct sail size for you.
Who is this for?
This is for anyone who has already tried windsurfing but either has no access to equipment or does not feel confident yet to go windsurfing independently. We will provide Wetsuits and Buoyancy aids, help you get in and out of the water with the equipment and provide some coaching to help you progress during the session. If you have not windsurfed before but would like to try it then perhaps our Learn 2 Windsurf Weekend is just right for you.
Equipment:
We will provide inflatable windsurf boards from STX which provide a stable platform for you to improve your skills. We have sails from 3.2m to 6.5m in a number of size increments to ensure that we can provide you with the equipment that suits your ability best.
If you would rather Stand Up Paddle (SUP) then let us know. We have a couple of SUP boards we can bring along if one person wants to windsurf and the other SUP.
Insurance is the responsibility of the participant, by RSVPing "yes" you agree to act responsibly at all times on this event and to not hold Swiss Alpine Adventure or any person involved responsible for any injury or loss which may occur in relation to the event.

We also encourage participants to have cancellation insurance in case they can not attend events at the last minute due to illness, injury or any other reasons. We cannot give refunds for cancellations within the last 30 days before the event starts.
Disclaimer:
All participants take part in events or activities facilitated by Swiss Alpine Adventure entirely at their own risk. Swiss Alpine Adventure does not accept liability for damage to property, death or personal injury that may occur whilst taking part in activities or events organized by Swiss Alpine Adventure. It is your responsibility to make sure your equipment is maintained and in safe working order. We reserve the right to stop you from participating with us if your equipment is badly maintained or not in safe working order. Whilst we endeavour to make sure that the information on this website pertaining to routes and trails is correct, we do not warrant its completeness or accuracy.
Bookings
| | | |
| --- | --- | --- |
| Max Participants | Booked | Pending |
| 4 | 1 | 1 |
Make a reservation
Please remember to log in prior to making a booking for an event if you are already registered with us.
Bookings are closed for this event.
Categories