Date/Time
Date(s) - 28 Aug
10:00 am - 4:00 pm
Location
Harbour Beach, Zug
Cost
CHF130.00
Der Sommer ist in vollem Gange und das ist Ihre Chance, Windsurfen zu lernen. Windsurfen ist die perfekte Sportart als Ergänzung zum Stand-up-Paddle (SUP) und um warme Sommertage am See zu genießen. Kommen Sie zu unserem Windsurf-Einführungstag und beginnen Sie den Sommer mit einem kräftigen Sprung.
Windsurfen ist ein dynamischer Sport, der die Aufregung des Surfens mit dem Engagement des Segelns verbindet. Windsurfen ist der perfekte Sport für alle, die die Herausforderung und die Verbindung mit der Natur lieben. Wenn Sie bereits auf den Geschmack gekommen sind und Ihre Fähigkeiten verfeinern möchten, dann ist dieses Wochenende genau das Richtige für Sie.
Unser Windsurf-Einführungstag richtet sich an alle, die noch nie Windsurfen ausprobiert haben (oder eine Schnupperstunde absolviert haben), aber gerne die Grundlagen unter den wachsamen Augen eines erfahrenen Windsurf-Trainers erlernen möchten. Ziel des Tages ist es, Ihnen die grundlegenden Fähigkeiten zu vermitteln, um auf das Brett zu steigen und eine kurze Strecke vom Ufer weg zu segeln, zu wenden und zurück zu segeln. Wichtige Theorie und Sicherheitsaspekte werden ebenfalls behandelt.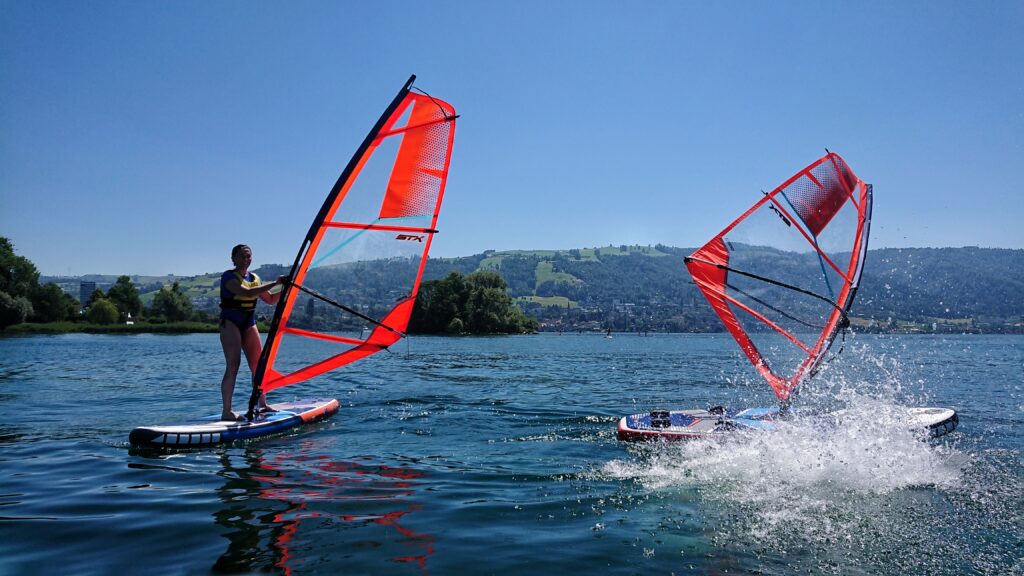 Für wen ist dieser Kurs geeignet?
Der Kurs richtet sich an alle, die das Windsurfen ausprobieren möchten. Sie müssen kein hervorragender Schwimmer sein, aber Sie sollten so sicher im Wasser sein, dass Sie nicht in Panik geraten, wenn Sie hineinfallen. Neoprenanzüge und Schwimmhilfen werden zur Verfügung gestellt. Wenn Sie bereits einen Grundkurs im Windsurfen absolviert haben und in der Lage sind, hinauszufahren, zu wenden und an derselben Stelle wieder ans Ufer zurückzukehren, dann sollten Sie sich unsere Coaching-Tage ansehen.
Kosten:
130CHF inklusive Ausrüstung und Coaching.
Bitte mailen Sie an info(at)swissalpineadventure.com, um eine deutsche Version unserer Allgemeinen Geschäftsbedingungen und des Haftungsausschlusses zu erhalten. Mit der Anmeldung akzeptieren Sie diese.
Insurance is the responsibility of the participant, by RSVPing "yes" you agree to act responsibly at all times on this event and to not hold Swiss Alpine Adventure or any person involved responsible for any injury or loss which may occur in relation to the event.

We also encourage participants to have cancellation insurance in case they can not attend events at the last minute due to illness, injury or any other reasons. We cannot give refunds for cancellations within the last 30 days before the event starts.
Disclaimer:
All participants take part in events or activities facilitated by Swiss Alpine Adventure entirely at their own risk. Swiss Alpine Adventure does not accept liability for damage to property, death or personal injury that may occur whilst taking part in activities or events organized by Swiss Alpine Adventure. It is your responsibility to make sure your equipment is maintained and in safe working order. We reserve the right to stop you from participating with us if your equipment is badly maintained or not in safe working order. Whilst we endeavour to make sure that the information on this website pertaining to routes and trails is correct, we do not warrant its completeness or accuracy.
Bookings
| | | |
| --- | --- | --- |
| Max Participants | Booked | Pending |
| 6 | 2 | 1 |
Make a reservation
Please remember to log in prior to making a booking for an event if you are already registered with us.
Bookings are closed for this event.
Categories