Date/Time
Date(s) - 14 May - 15 May
10:00 am - 3:30 pm
Location
Sailing Club Aegeri
Cost
Free
Windsport Days is a new event being run in collaboration with:
The Windsport Days organisers want to create a platform for Windsports in Switzerland, give those interested a chance to try out some of our favourite sports, and show you some of the latest toys for playing on the lakes of Switzerland in summer 2022. All our sports are powered by the wind and our goal is to unite all such sports together irrespective of whether we sail, windsurf, wing foil, kite, or do any other wind-based water sport.
The weekend will feature exhibitions of various wind sports equipment as well as the chance to try out Catamaran Sailing and Windsurfing on one of our taster sessions. More experienced sailors will be able to go for a spin on the Peacoq which is a new foiling sailboat for everyone.
For Swiss Alpine Adventure members, there is a session specifically reserved to try out Catamaran Sailing or Windsurfing on Saturday Morning. Registration for this session is here through the Swiss Alpine Adventure website. Registration for all other sessions is through the windsportdays.ch website.
Taster Sessions:
Catamaran Sailing: The Dart 18 Catamaran is a perfect boat for an introduction to Catamaran sailing. The boats are stable, easy to sail, quick to assemble, and can be transported on a trailer from place to place with little effort. In Switzerland, it is also a boat that may be sailed without a license. The Dart 18 offers plenty of excitement when the wind gets up, but light winds can also be managed by less experienced sailors. The International Dart Association of Switzerland (IDAS) will be present with a number of Dart 18 Catamarans and offer the possibility to go for a sail on the boats present.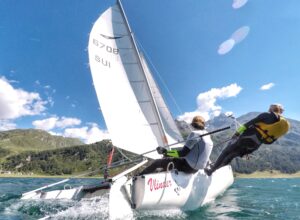 Windsurfing: Windsurfing is a dynamic sport that combines the excitement of surfing with the engagement of sailing. For those who like a challenge and a connection with nature, windsurfing is the perfect sport to try. This sport is an ideal complement for SUP as on the days when there is too much wind to SUP it's great to windsurf. We will have our fleet of STX inflatable windsurfing boards present on the weekend and will those who want the possibility to try out windsurfing on Lake Aegeri.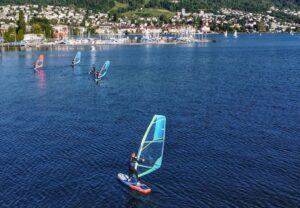 The Saturday Morning Taster Session is reserved for Swiss Alpine Adventure. This session will be run in English and registration for this session is here. Registration for the other taster sessions is on the Windsport Days website. Registration for the SAA Taster session at the Windsport days can be found here.
Information and Exhibitors
Peacoq: The Peacoq is a new foiling boat from France which wants to make foiling possible for everyone. Kielwasser is the Swiss agent for the Peacoq and Laser range and will be present on the weekend to show you the boat, if conditions allow they will take some of you who already have some sailing experience for a spin. (Registration for a test sail in the Peacoq must be done in advance directly through Kielwasser)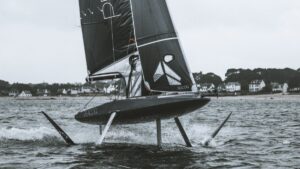 RC-S2: The RC-S2 is not just a remote-controlled sailboat. It is quite simply a work of art. On Sunday the boat will be on display and in the water. The boat is the fusion of the designers' passion for wind, water, and design all rolled into a stylish sailing boat that can be sailed from a distance. Individual controls for the Jib, Main, and rudder are all part of the package and if the conditions are right maybe they will even pack out the Gennaker!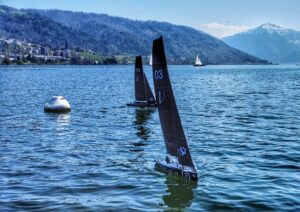 Sailing School Aegeri: For those interested in sailing larger boats with more than 15 square meters of sail area Sailing School Aegeri will be present to give you information about how to go about getting your "D" certificate to be allowed to sail, boats of more than 15 square meter sail area on Swiss Lakes.
Stand Up Paddle/Wing Foil: We will have Stand Up Paddle Boards, Wings, and Foils on display from STX, SMIK SUP, SIC, and perhaps some more brands also. More information coming soon.
IDAS: The international Dart Association of Switzerland will be present to give information on how to get involved in catamaran racing and sailing in Switzerland. The Dart 18 does not require a license to sail it on Swiss lakes. It does however need to be registered with the local "Strassenverkehrsamt" 
Programme:
| | | |
| --- | --- | --- |
| Time | Saturday | Sunday |
| 09:30 | Event Opening | Event Opening |
| 10:00 | Taster Session Windsurf/ Cat Sailing (SAA) | Taster Session Windsurf/ Cat Sailing |
| 13:00 | Aegeri Sailing Club – Regatta | RC-S2 Model Boat exhibition |
| 13:30 | Taster Session Windsurf/ Cat Sailing | Taster Session Windsurf/ Cat Sailing |
| 16:00 | Event Close | Event Close |
Insurance is the responsibility of the participant, by RSVPing "yes" you agree to act responsibly at all times on this event and to not hold Swiss Alpine Adventure or any person involved responsible for any injury or loss which may occur in relation to the event.

We also encourage participants to have cancellation insurance in case they can not attend events at the last minute due to illness, injury or any other reasons. We cannot give refunds for cancellations within the last 30 days before the event starts.
Disclaimer:
All participants take part in events or activities facilitated by Swiss Alpine Adventure entirely at their own risk. Swiss Alpine Adventure does not accept liability for damage to property, death or personal injury that may occur whilst taking part in activities or events organized by Swiss Alpine Adventure. It is your responsibility to make sure your equipment is maintained and in safe working order. We reserve the right to stop you from participating with us if your equipment is badly maintained or not in safe working order. Whilst we endeavour to make sure that the information on this website pertaining to routes and trails is correct, we do not warrant its completeness or accuracy.
Bookings
Currently 0 bookings are pending for this event
Please remember to log in prior to making a booking for an event if you are already registered with us.
Online bookings are not available for this event.
Categories