Hi Everyone,
As I am writing this the first snow is falling and many resorts have already opened their lifts for those who can't wait to get on the slopes. We have been planning our winter calendar and are looking forward to getting started next weekend. Check out our events calendar on the website.
www.swissalpineadventure.com/events
Avalanche Safety
This week the local media has been reporting that the number of Freeride Fatalities doubled over the Longyear average last winter and are advising anyone thinking of going off-piste to improve their avalanche safety skills. (link here)
We will be running two avalanche courses in English this winter, a more advanced one next weekend (17/18 December) for those who have already done some training and would like to supplement their skills and beginners one on the weekend of (14/15 January 2023) for those who would like an introduction to avalanche safety.
These courses are perfect to improve your theoretical and practical knowledge early in the season to help ensure a fun and safe winter in the mountains. Registration is open right now.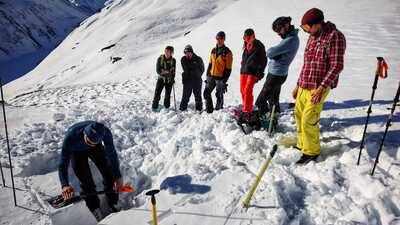 Ski Tours
For those of you wishing to do some touring but are not 100% confident in planning your own tours and would rather do it in a group with a guide, we will have ski tours running almost every Saturday during the winter and also a New Years Skitour for those wanting to kick off 2023 in the snow. You will find the sign-up and full information for all the ski tours on the events page of the website.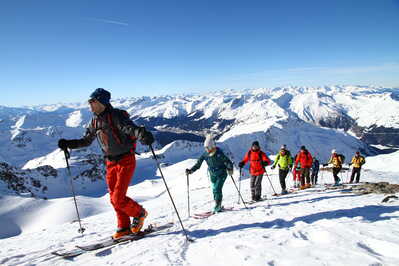 Learn to Ski Off-Piste
We also have a great opportunity for any of you who would like to try off-piste skiing and ski touring with a group of like-minded under the watchful eye of our Ski Instructor/Mountain Guide. People have loved this introduction in past years and Dominik is looking forward to continuing the tradition this year. This event is running on the 14/15th of January and full details can be found here.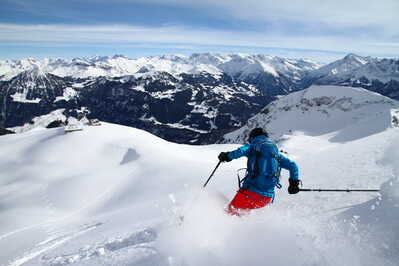 Social Off-Piste Weekend
We once again have one of our social off-piste weekends running in Vals this winter. Vals is a local secret resort which is great for Ski-touring and Freeriding. We don't advertise this weekend as being one or the other, but as a weekend where we make the most of whatever conditions are available and spend as much time out in the snow making friends as possible. Our guides will look to find the best conditions for us and you can just enjoy skiing or ski touring with new friends. Sign-up for Vals can be found here.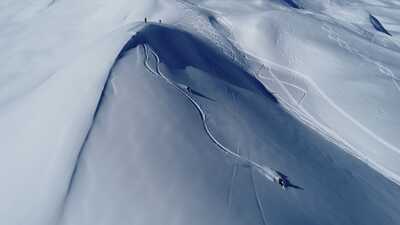 If you have any questions about any of our events do not hesitate to get in touch with me. email and phone number can be found on the website www.swissalpineadventure.com
I wish you all a great winter 2022/23 and hope to see you at some events in the coming months.
Kind Regards,
Dave
Swiss Outdoor Sports events for an international audience
Posted : 09/12/2022 6:04 pm