A couple of months ago I was asked if I would be interested in the Delorme inReach SE as a means to ensure higher safety for Swiss Alpine Adventure groups when we are out and about in the Alps. The device offers communication with emergency services (and family/friends) over the Iridium satellite network when there is no mobile network available, anywhere in the world.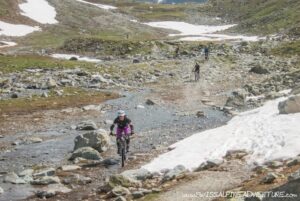 Even quite easily accessible areas of the Alps can have no mobile phone reception.
Here in Switzerland we are quite lucky to have good mobile coverage, but when in the mountains the terrain sometimes means that there are gaps in reception and in the event of an emergency this may lead to problems. At Swiss Alpine Adventure when planning events we often think about worst case scenarios and what happens if we have an emergency when there is no mobile cover. This is something we always plan for and luckily have never had to use, but maybe a device like the inReach can give that extra bit of peace of mind when we are in the mountains.
The inReach arrived and after a few hours of charging I was ready to turn it on. The controls are basic, as is the screen. A 4 way direction key, select, deselect, SOS buttons and an SOS lock are the only controls visible on the front of the device. The screen is a colour LCD screen similar to those seen on phones pre-smartphone era. A micro USB port, belt clip, lanyard and antenna are the only other items on the device.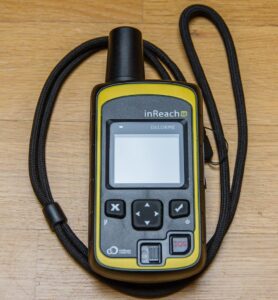 The Delorme inReach SE
The inReach is a satellite tracker and communicator, which is capable of sending text based messages in the form of SMS, email Twitter and Facebook messages (with location) over the satellite communication network, but it it not capable of voice communication. It is also possible for you to share your location to the Delorme website where you can give anyone who wants to follow you a link so they can see where you are at any time (tracking). Should the worst happen there is the red SOS button on the front of the device which will immediately connect you with an emergency center which will help coordinate your rescue if necessary.
The interface:
The interface is what I would describe as clunky but functional. On the test device I received the right hand directional button was a bit difficult to operate and seemed to take time to "wake up". Typing is done on an onscreen keypad that is in alphabetical rather than "QWERTY" layout and I found composing messages relatively time consuming compared to modern day devices. There is a degree of predictive text in the device and if the correct word is selected you can hold the down button and the suggested word will be added which does save a little time. From the interface alone you are not going to make any records in typing messages and I do wonder if this may become an issue in an emergency situation.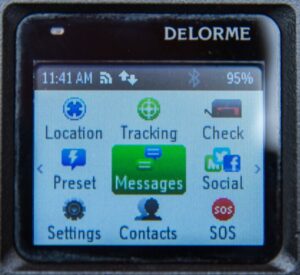 The inReach homescreen
Setting Up the Device:
As the interface is a little clunky I was happy to find out that a lot of the setting up can be done through an online interface. It is possible to preset phone numbers, short messages, set up your Twitter and Facebook, put in emergency contact details and much more on the web interface.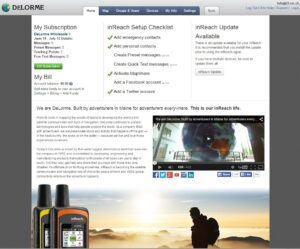 The Delorme Website for syncing with the inReach
It's well worth spending some time at home playing with the device and the web interface before heading out into the mountains with your inReach unit.
Smartphone App:
The inReach has it's own "Earthmate" Android and iPhone app which allow Bluetooth connection between your phone and the device. We tested the android version and found it in general quite easy to use. The app allows you to download Topo maps when you first install it. On my first install I did so and about 3GB of maps were downloaded to my device none of which were useful for Switzerland. I uninstalled the maps and decided just to use the app as a better interface for the device itself. Subsequently I discovered it is possible to download smaller areas of Topo maps which take approximately 1GB of space on the device. These maps only serve to give you a general sense of where you are and will not show you all of the paths and trails that you would normally expect to find on a detailed Topo Map.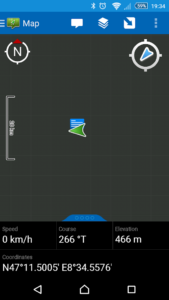 Location screen on the Smartphone App without mapping.
All messages show up in the app and it's easy to reply through your smartphone if it is paired with the inReach device. This is considerably easier than having to type the text into the device itself. If you want to Tweet or make a Facebook you can find a previous Tweet or Post in the messages tab and then reply to this too.
It's also possible to start and stop tracking, send locations and activate the SOS feature from the app which would ultimately speed things up considerably in an emergency.
In the Field:
The inReach features IP67 Waterproofing (standard submersion to 1 meter for 30 minutes), is impact resistant and features a claimed 100 hour battery life so it is rugged enough to accompany you on your outdoor adventures. I've carried the inReach in my backpack while mountain biking in the Alps for the last month or so and found it fitted nicely in the outside pocket without taking up too much space. I found that I lost about 5% of battery while on a 5 hour bike tour.
Once powered up it seemed to be quite quick to get a satellite lock with a clear view to the sky and text messages were delivered almost instantly. To receive text messages you either need to check manually for messages or set a check interval of between 5 and 20 minutes. One thing I did notice when using the smartphone app with the device in my backpack is that inReach needed a few minutes to get it's location before sending the message. Once out with a clear view of the sky it was much quicker.
In the field the interface to send messages on the device itself was somewhat frustrating. Using the smartphone app it became quite easy, but I do wonder how it would drain the battery over longer periods, especially if you are in an area with no cell reception for longer periods. Based on past experience we have noticed that phones tend to lose battery very quickly when they are constantly searching for network. This can be reduced by putting the phone in "Airplane" mode, but then you loose your Bluetooth connection with the inReach. Delorme recommend that if using the device that you pre-programme messages you may want to send into the device to speed things up, but it may not really be possible to pre-plan all emergency situations, having a smartphone paired with the device is something that for me gives the inReach a good degree of usability.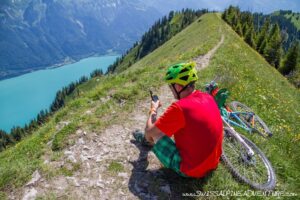 Emergency Calls:
Fortunately during our test of the inReach we didn't have to use it in an emergency situation. We did however ask how such a situation would be handled and if it worked directly with the local Swiss emergency services. Since the device is world wide operational instead your SOS signal will be answered by a monitoring center in the US who will then relay the nature of your emergency to local emergency services on the ground where you are. This means that if you need helicopter rescue in Switzerland you will not have direct contact with Rega (or whichever rescue service is operating in your area) but your messages will be relayed through a third party. It would also be possible to notify family or friends of your predicament and have them contact your emergency services.
Cost:
The device can be purchased from www.we-secure.ch for 375CHF (+VAT) and requires an active satellite connection to be functional. Should you also require navigation you could opt for the slightly more expensive inReach Explorer.
There are four different levels of plan ranging from "Safety" which includes 10 Text messages a month (cost $0.50 thereafter) to the "Extreme" plan which includes unlimited messages and tracking points.
Each plan comes in an "Annual" or "Freedom" form which allow you to pay for the airtime in a way that suits your usage the best. The "Freedom" plans are a little more expensive but allow you to choose months of connectivity at a time when you need to it and to put the plan on hold when you don't need the coverage. The "Annual" plan has cheaper monthly rates and is better suited to those who may use the device year round. In real numbers the "Safety" plan on "Annual" contract will cost you $11.95 per month while on a "Freedom" contract you will pay $14.95 for the same service. The "Extreme" plan is $79.95 "Annual" and $99.95 for "Freedom. There are also "Recreation" and "Expedition" plans if the "Safety" or "Extreme" don't quite fit your needs.
Further information on the costs can be found here.
Other Options:
There are of course other options for emergency situations when outside of mobile phone reception but in my opinion each of these have their own limitations. (a small number mentioned below)
Satellite Phone: A satellite phone is probably the ultimate in devices for emergency situations, however they are relatively expensive, require more costly plans which can carry voice traffic and possibly overkill for people who are not spending very long times in very out of the way areas. Definitely overkill for Switzerland.
Emergency Radio: Often used by mountain guides and this can provide a quick link directly with many of the Rega or other rescue helicopter bases in the Swiss Alps. The radios still however work on a line of sight basis and depending on the power may or may not allow communication with the closest rescue base. The advantage is a live voice feed directly with the rescue services, but you may still need to move to a higher point or from behind a hill in a worst case scenario to get contact with the emergency base.
UEPAA App: This is a smartphone app which claims to be able to keep you in contact when "off the grid". The app however uses WiFi connections on your phone to keep you in touch with other people near by (WiFi Range) and only offers a daisy chain effect to relay messages. If in truly remote places there will not be anyone within WiFi range and thus the App may lead to a false sense of security for those who are using it and when running WiFi and searching for network constantly your smartphone battery may not last very long.
Conclusion:
The inReach certainly fills a demand for an affordable device which can get you out of trouble in areas where there is no telephone coverage. In an emergency situation having the device paired with a smartphone may save valuable time over having to communicate with the devices own on-screen interface. In this situation you want to ensure that your smartphone has plenty of battery on it. Based on my experience in the mountains, I've noticed that modern phone batteries deteriorate very quickly – when they are not in airplane mode – in areas where there is no telephone reception. This may mean that you need to keep your cell phone either turned off or on "airplane mode" if in no signal areas for a long time to ensure that you still have battery to use with the device in an emergency. To pair you will have to ensure that "airplane mode" is turned off. The devices inbuilt messaging function is certainly usable but definitely takes a lot more time to compose and send text messages then using the smartphone app and in a real emergency situation time may be of vital importance.
For those heading into the great outdoors in areas of the world with vast wilderness then such a device would be a no brainer for me. Here in Switzerland I think the device makes sense for those who travel alone into the mountains especially in areas where the terrain means that travel is quite slow.
For groups the device may bring some degree of extra security and may speed up rescue in certain situations but each person will have to weigh up the possible pros and cons of having such a device for themselves. The areas of Switzerland which have no mobile coverage are usually so small that within a group it would usually be possible to send a group member to the closest area with a mobile signal to arrange rescue, but in a worst case scenario situation the inReach may save some vital time. In winter situations where time is vital and time may be lost having to put on or take off skins before being able go for help, the inReach could prove to be a life saving device.
Having spent a month with the device we have decided to add the inReach SE to our equipment on a permanent basis as it offers a quite cost effective and reliable method of communicating with the outside world and emergency services in the event of an emergency. There is never a 100% safety guarantee when playing in the outdoors and we feel that the inReach offers a good value for money insurance policy should an unforeseen circumstances necessitate getting in contact with the outside world when in remote areas anywhere in the world.