Slowly 2014 is drawing to a close and I'd like to take this opportunity to wish all of our members and followers a very happy Christmas and New Year period.
Swiss Alpine Adventure (SAA) is a community of over 1500 members where friendships are made and experiences are shared, over the last few years it's grown remarkably, but it's great to see many of the same smiling faces coming back again and again and also many new ones joining for the first time. It is our goal to share great experiences in some of the most beautiful corners of Switzerland we can. We are an amateur community which strives to run in as professional and safe a manner as possible. Despite all of us having normal day jobs, we truly want to make this the best and most active outdoor sports community in Switzerland and I'd like to thank all our members who have helped make Swiss Alpine Adventure as much fun as it has become.
Members taking a break while on a Mountain Bike ride on Chasseral in May.
The Year Gone By
2014 has been a busy one for us here at Swiss Alpine Adventure, we've had somewhere in the region of 150 activities over the last 12 months and also for the first time included activities such as glacier trekking and indoor climbing on the calendar. For 2015 we are already thinking of some new ideas to compliment the regular road and mountain bike rides.
We've once again had some articles originating out of Swiss Alpine Adventure in some of the leading English Language mountain bike publications and we were also invited to present our club at the Mountain Bike Congress in Chur in October where we received some very positive feedback for what we are doing.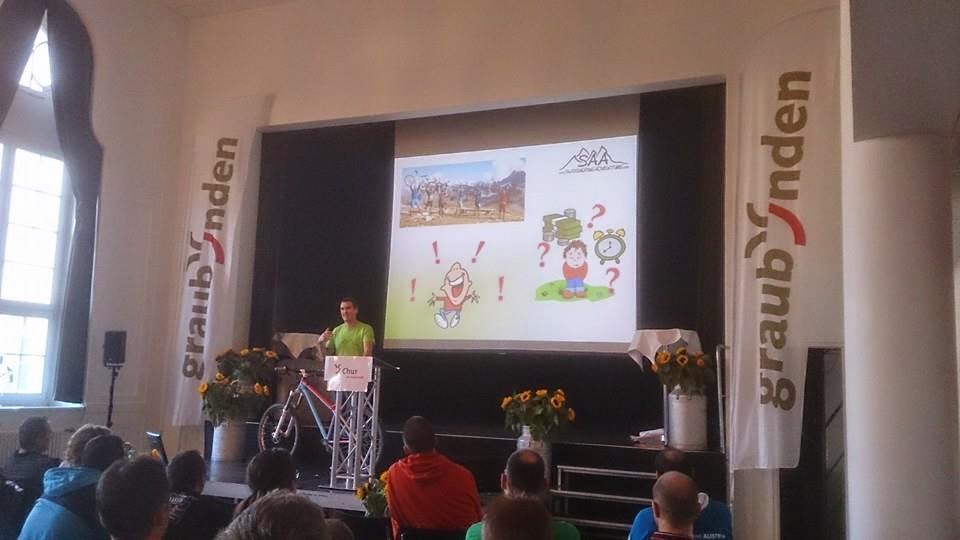 Dave presenting SAA at the RIDE Congress in Chur.
One of the year's highlights for me was the one week tour of Switzerland which we organised in September. Although we ran that week as an experiment it was a resounding success and we are planning on running it again in 2015. (Thanks to all the "guinea pigs" who volunteered to test the route this year!)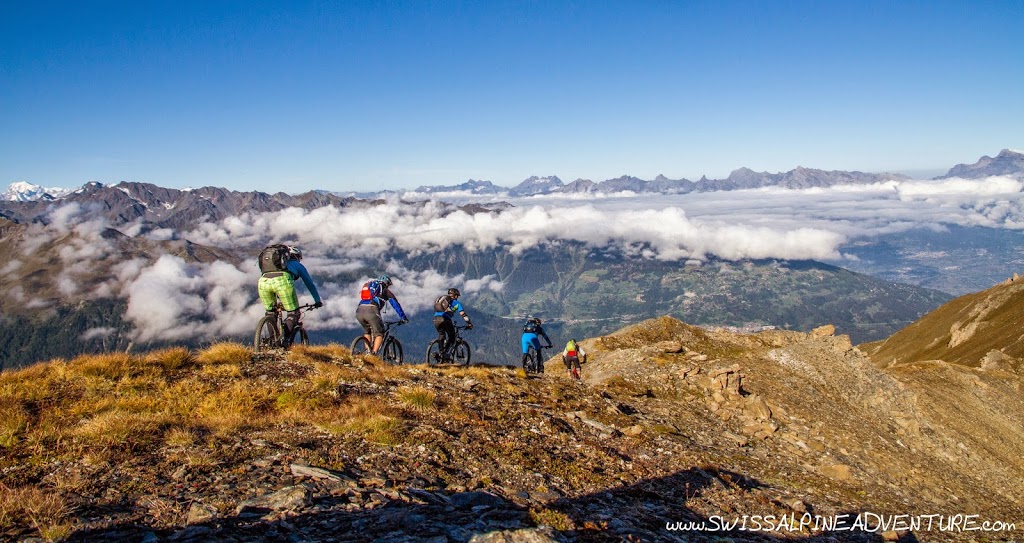 Some of our "Guinea Pigs" testing our SAA Tour of Switzerland.
Despite what the media is saying its winter now and we're in full winter mode despite the mild temperatures. Contrary to what is being reported there is snow in Switzerland and we had a very successful avalanche training weekend on the Oberalppass the weekend before last and our test team is just back from testing how we can even further improve the delivery of our avalanche courses and ensure that everyone has the right level of course available for them in winter 2015/16.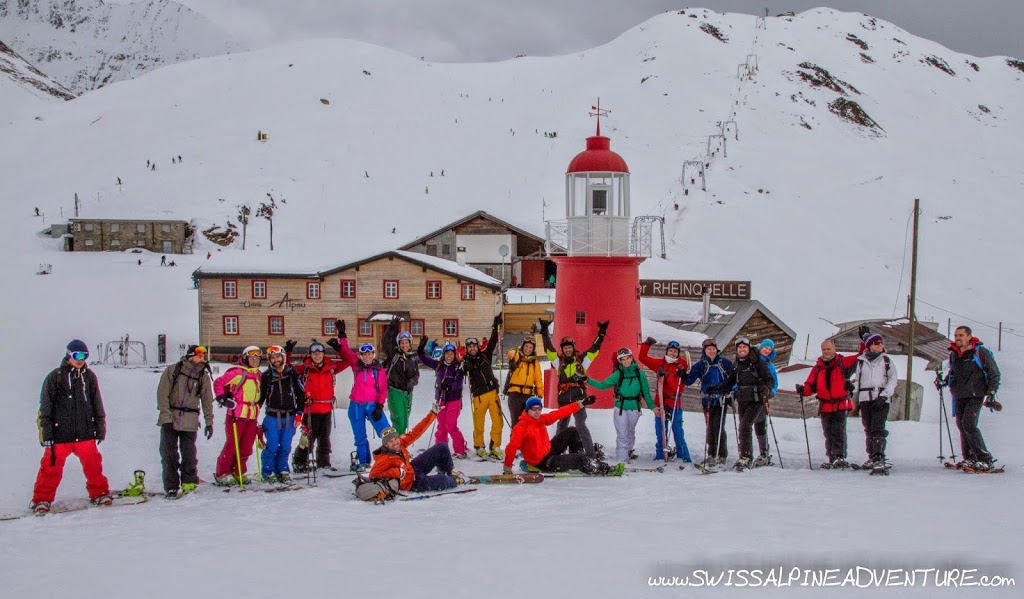 Some of the participants in our recent Avalanche Safety Weekend at the Oberalppass
Upcoming Events
After Christmas we have some great snow based events lined up in the way of technique training for those who want to head off-piste on skis or snowboards (there are still some free places for snowboarders who want to improve their off-piste technique!), we have a social on-piste weekend in the Aletsch and also some great freeriding/touring weekends lined up for skiers and snowboarders in Disentis and the Bernina Region. If you want to join us for some fun guided off-piste weekends make sure you get signed up as soon as possible.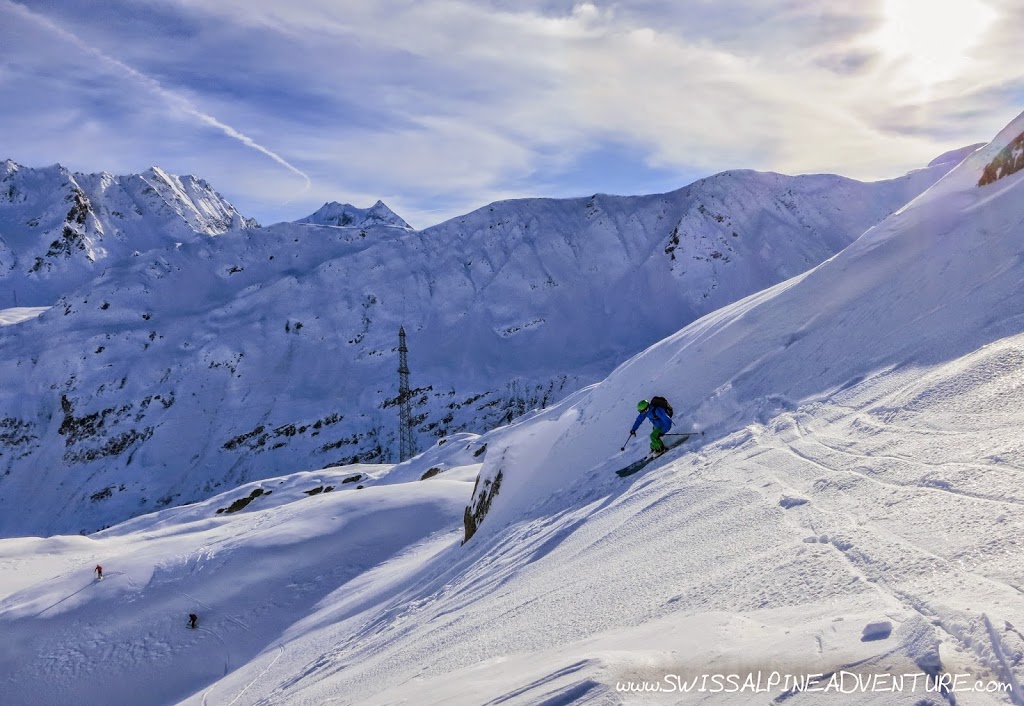 Join the adventure on one of our winter weekends.
Snowboard Freeride Technique – January 17/18: (1 place left) (Intro to Ski Freeride Technique – Waiting List)
www.swissalpineadventure.ch/events/201607192/
Ski Freeride Technique – Improvers – January 17/18: (1 place left)
www.swissalpineadventure.ch/events/201607822/
Piste Weekend Aletsch Arena – January 23/24: (Waiting list)
www.swissalpineadventure.ch/events/203488112/
Freeride/Touring Disentis – Jan 31/Feb 1: (3 places left)
www.swissalpineadventure.ch/events/201609372/
Freeride/Touring Bernina Region – Feb 21/22: (RSVP opened last night – only 5 places left)
www.swissalpineadventure.ch/events/201610192/
Tour around the Jungfrau – March 14/15: (RSVP opens Jan 11th 7pm)
www.swissalpineadventure.ch/events/201611312/
As the winter presents itself we may also organise a few "Powder Day" trips similar to our day on the Schilthorn in Berner Oberland last March.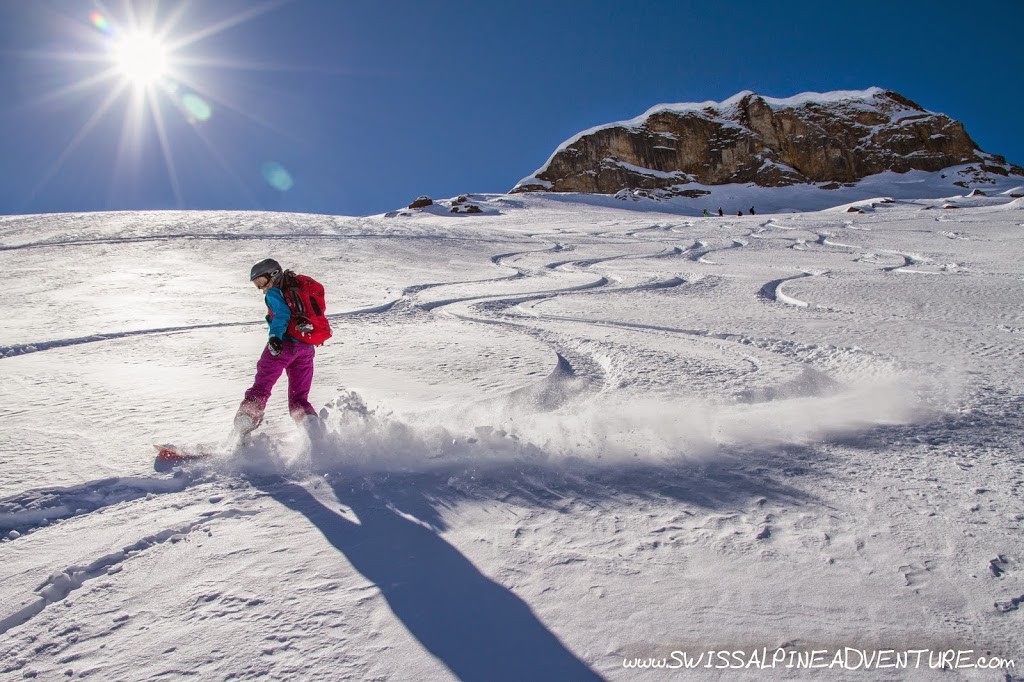 Guided Freeride Day – Berner Oberland March 2014
Looking Forward to Summer 2015
I'm really looking forward to trying to make Swiss Alpine Adventure an even better community in 2015. I've got some ideas for new activities that we will work hard to realise in spring so we can offer you an even more diverse range of activities in the future.
Once spring hits we will once again get back on two wheels (some members seem to keep on riding through the winter!). In spring I will once again run a number of days for anyone who would like to get involved with organising rides in summer 2015. With the group as large as it is now we need more people to step up and help us out with organising rides. We particularly need some people to organise some rides at a beginner and intermediate level, both on and off-road. If you would like to get involved then feel free to get in touch with me.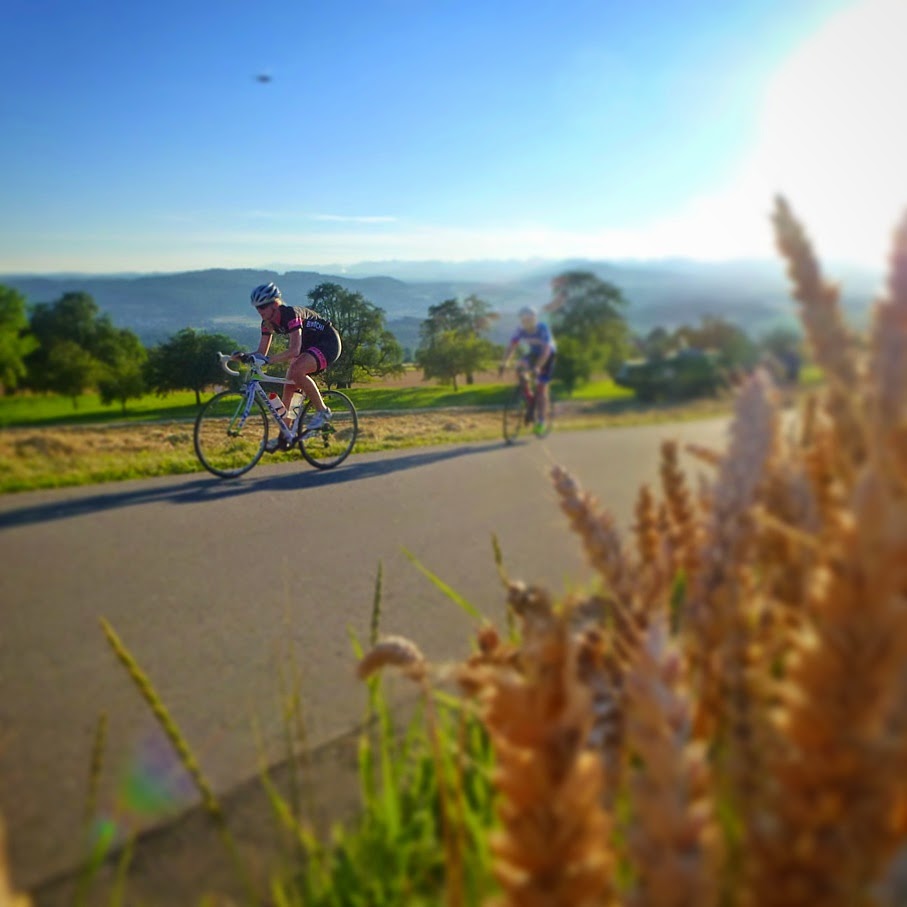 Afterwork Rides are a regular SAA activity
Currently we have plans to run Mountain and Road bike courses as we have in the past along with our regular single day trips to various corners of Switzerland and our after work rides. We will also run an intro to MTB weekend in June and some trail riding weekends in Engadin, Valais, Berner Oberland and hopefully Romandie during the summer and autumn months.
Glacier Trekking will once again be on the programme and we are looking into the option of putting a High Alpine tour on the calendar where we would climb one of the higher mountains in the Swiss Alps… Maybe even taking SAA over 4000m for the first time!!! If people would also like some hiking activities run along the SAA philosophy then get in touch and we'll see if we can organise it.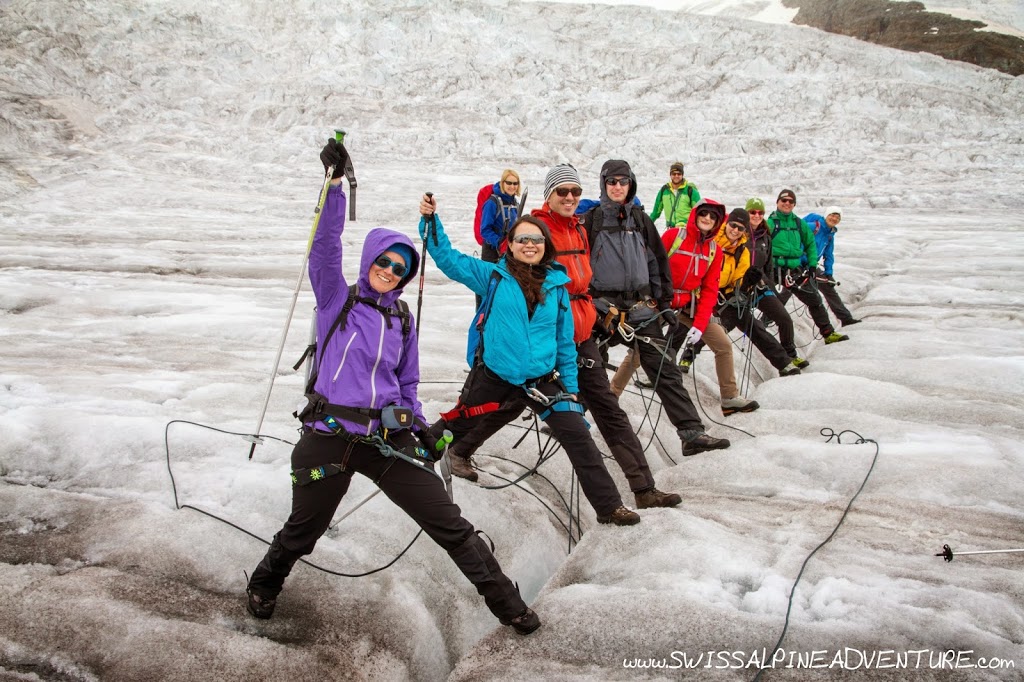 Trekking on the Aletsch Glacier in July 2014
If there is any activities that we are not running that you might be interested in why not get in touch with us and see if we can help to make it happen.
Partners
It's been a long road to making Swiss Alpine Adventure the community it is today and taken a lot of time, energy and money. It is our goal to be able to run SAA with the minimum of barriers to participation as possible and with this in mind we do not want to charge our members a membership fee. It does however cost money to run the community and without our partners helping us to somewhat reduce our costs, it would not be possible to keep the project going.
In particular Lars at Mountain Thrill Bike shop in Horgen stepped in at a particularly difficult period of the year where we were unsure if we would be able to continue the Swiss Alpine Adventure Project in 2015. If you like what we do and are looking for a new bike then please go check him out. He really does offer the best value for money in Switzerland.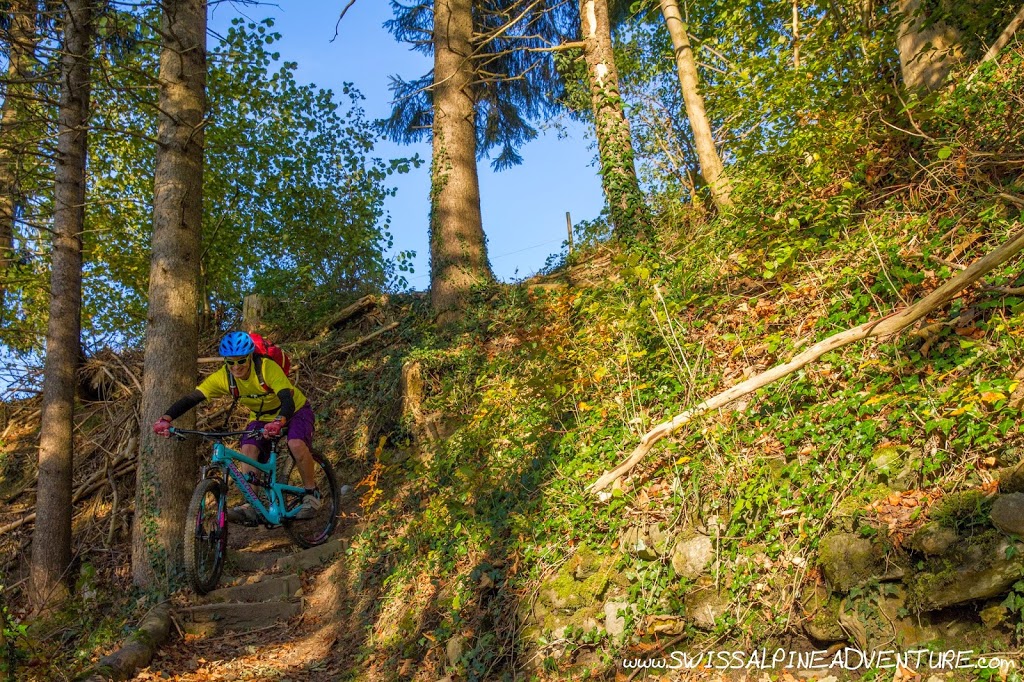 Dave testing the Santa Cruz Nomad from Mountain Thrill
A big thanks also goes out to Kundalini Ski and Climbing shop in Zurich who help to make the winter calendar possible and keep the costs associated with running our winter programme somewhat affordable, again if you are looking for some off-piste skis or climbing gear give them a visit for some great advice and very fair prices. Let them know that Dave from Swiss Alpine Adventure sent you.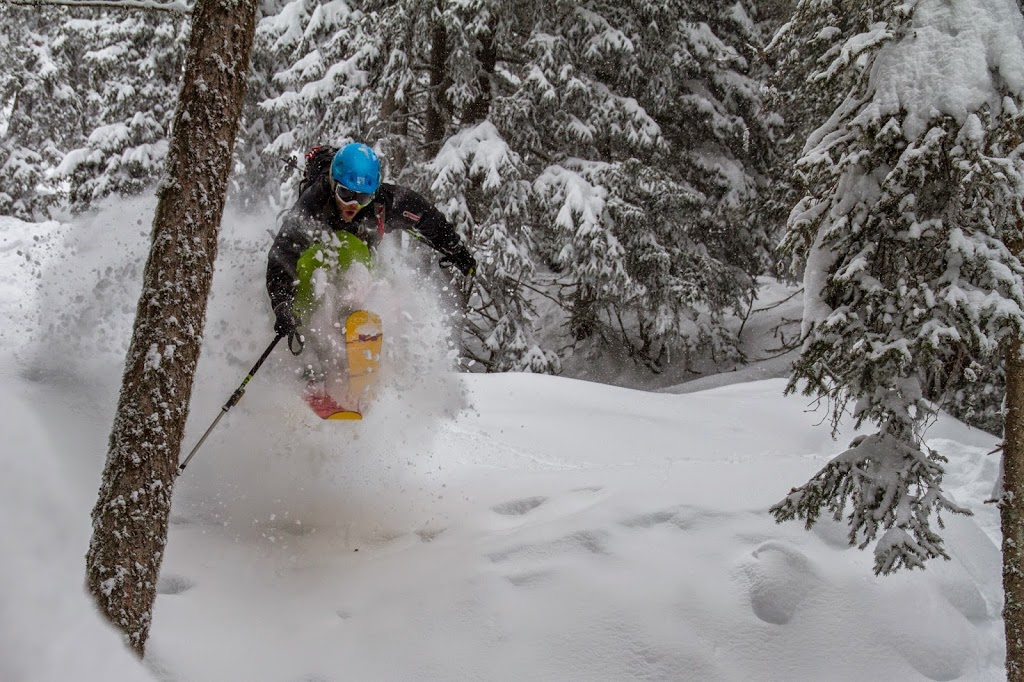 Skis for every adventure from Kundalini
Also, thanks to Two Tyred Tours for providing us with our uplift/shuttle service on the tour of Switzerland. Without the support of these businesses it would not be possible to run Swiss Alpine Adventure in the professional nature that we do and I personally owe them a depth of gratitude. If you would like to book a cycle touring holiday in France or Italy then they may be able to tailor something especially for you.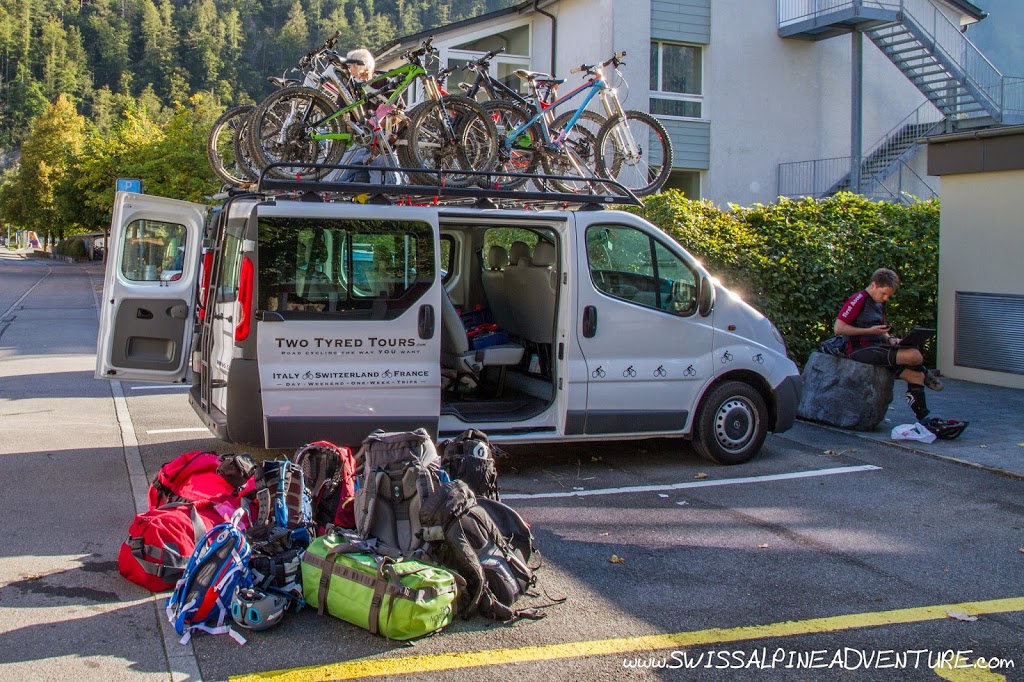 Loading the Two Tyred bus during our Tour of Switzerland
Outdoor Active also came on board to help us out a little with our website after my presentation at the Mountain Bike Congress in Chur. We now have a dynamic page with some of our favourite tours available for you to download GPS tracks and take a road book along with you. We are currently starting to populate the page and as time goes on we will put our favourite road, mountain bike and ski tours up there for you to enjoy on the few weekends a year when we don't have a Swiss Alpine Adventure Activity for you to enjoy.
https://swissalpineadventure.com/tours.html
Finally, if anyone is planning on doing some guided off-piste or mountain activities in 2015 which are not already on our calendar then let me know as we can arrange activities for you through the Berg und Tal Alpine School. Once again, I'd like to thank all of you who have helped to make Swiss Alpine Adventure what it is in 2014 and look forward to seeing as many of you as possible out playing in the playground called Switzerland in the coming year.
Happy Holidays to All and looking forward to seeing as many of you as possible out playing with us in 2015.
Dave.