A recent discussion on the Swiss Alpine Adventure Facebook Page has brought me to the conclusion that a number of people are not completely familiar with the privileges and restrictions associated with taking your bike on a train in Switzerland. We are incredibly lucky here that the public transport system is generally well equipped to carry bikes and it allows us a pretty unique way for almost anyone to access some amazing places for all kinds of cycling. People should be aware of a few things though.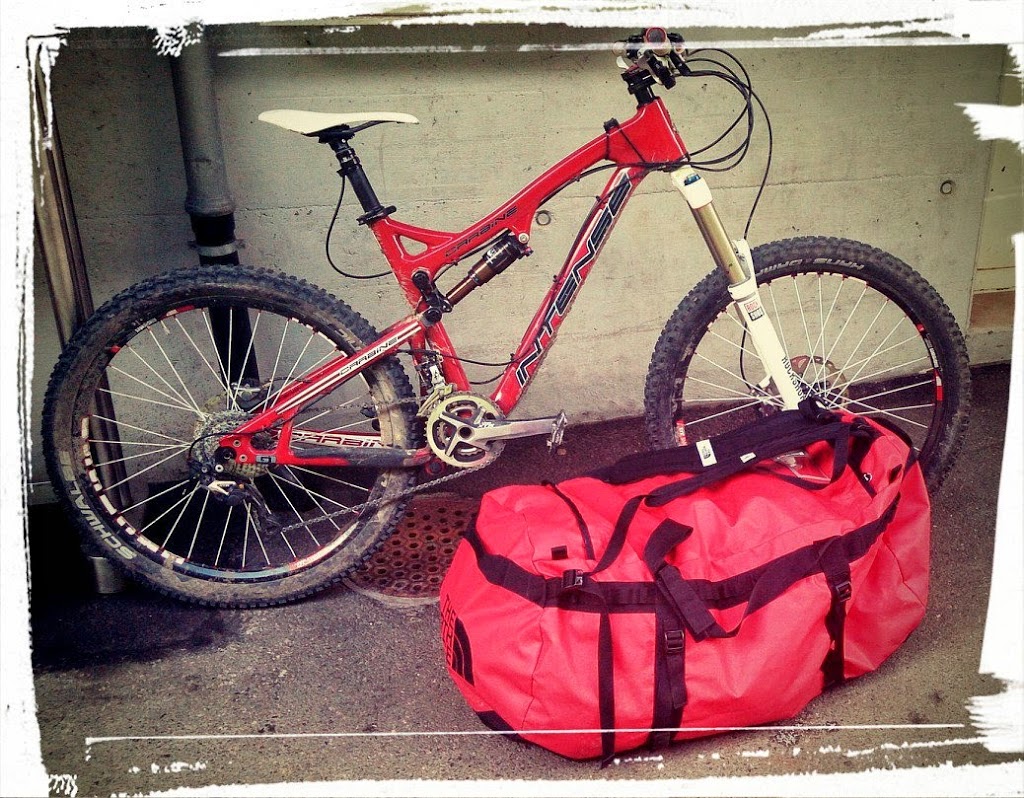 The ability to take a bike on public transport here gives unique possibilities. This is everything I require to do a one week tour the whole way through Switzerland almost 100% on single trail with the help of the Swiss public transport system.
The train system in Switzerland is not one company. While all timetables and tickets can be checked or purchased through SBB (CFF or FFS in French or Italian parts) the trains are in many cases operated by third party companies. An example of this is BLS running services around Bern, RhB running services in Graubunden and ZVV or SZU running services in Zurich. Each company can impose it's own rules on it's own facilities. This means that many mountain railways or cable-cars can impose restrictions as to whether a bike can be taken or not or if there is an extra tariff to be paid for the bike. This is the situation country wide and it is something I always need to check when I am planning new tours.
While the vast majority of train services and many buses will carry bikes, there is officially never a guarantee that your bike will be taken on the train. Bikes are only carried when there is enough space on the train and the train is fitted out to take them.
The Cost:
In general the ticket options are:
A second ticket for your bike (the same as yours)
A day pass for your bike
A yearly pass for your bike (Velo GA)
A second ticket for your bike:
On shorter journeys you can buy a second ticket for your bike. An example of this would be when travelling from Uster to Zurich. If I have a Halbtax card I would need to pay 5.20CHF for my own ticket. If I want to take a bike I need a second ticket for the same route which will also cost 5.20CHF. If I don't have a Halbtax card then my ticket costs 10.40CHF and I need a second one to take my bike with me. This system works on short sections where the cost of taking the bike is less than the cost of a day pass for the bike.
A day pass for your bike:
A day pass costs 12CHF with a Halbtax card and 18CHF if you don't have one. This ticket allows you to travel for a day on the majority of public transport links in Switzerland with your bike. There are some exceptions and there are some areas where you will have to pay extra. This option is the cheapest one if you are taking a journey where your own ticket costs more than the cost of a bike day pass.
A yearly pass for your bike:
This costs 220CHF for a year and gives you the same privileges as a day pass (this is what I use myself). Once again there are exceptions where the yearly pass is not valid and an extra fee may need to be paid.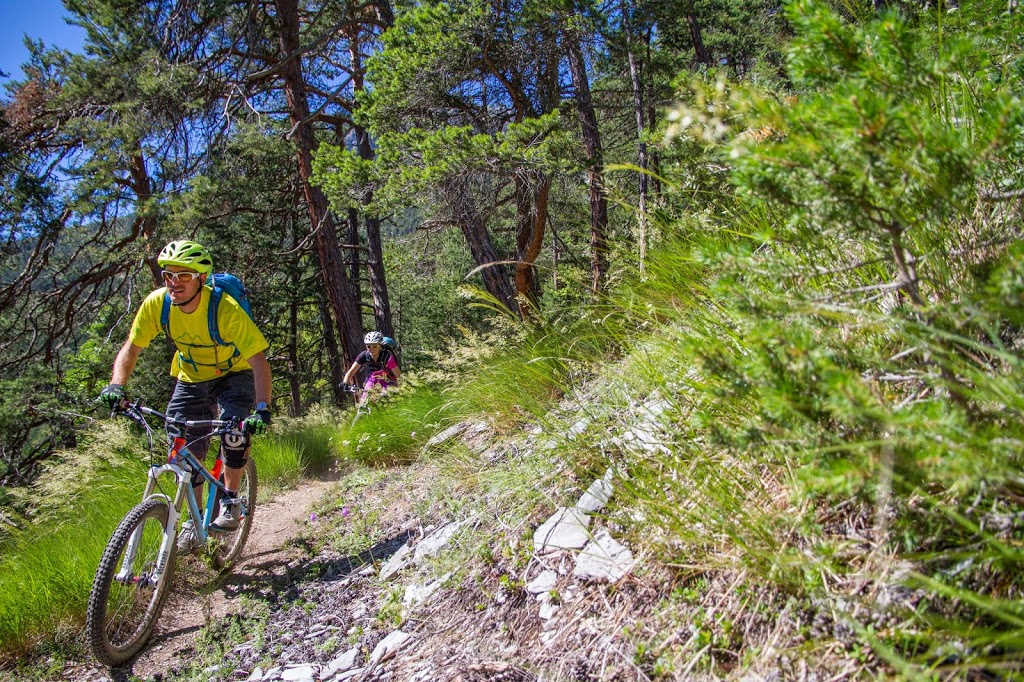 Trail access like nowhere else in the world thanks to the public transport system.
Extra Fees:
Some areas such as the Bus Service in Luzern and Zug, The cable cars to the Aletsch Arena, or some other private railways which are covered by the normal GA or SBB Day Pass are not covered by the Bike Day Pass or GA. This means that an extra fee is payable when taking your bike. An example of this is if I want to take my bike on the Funicular up the Zugerberg I will need to pay extra for the bike even if I have a day pass or a Velo GA. Some cable car systems that are also the main access for some villages (i.e. Bettmeralp in Wallis) come under the GA system which means with an SBB Day Pass or GA I can travel on the cablecar myself without paying extra, but I still need to pay 5CHF to bring my bike on these lifts even if I have a valid SBB Bike Day Pass or GA.
What services can I bring my bike on:
In general the time table on www.sbb.ch is very helpful in determining what services you can bring your bike on. As a rule of thumb IC, IR, RE and many S-Bahn trains allow you to take bikes on them. Many have specific bike compartments. ICN trains and many Post Buses require reservations for your bike in advance. The reservation costs 5CHF on the ICN services and I have so far never had to pay a reservation fee on a Postbus service. EC and ICE services do not take any bikes at all and many services have specific rules about bikes such as the S-Bahn Zurich which does not allow bikes between the hours of 7am and 9am in the mornings and between 16:00 and 19:00 in the afternoon/evenings. There is a rough representation of the services which take bikes available
here
.
The
SBB Timetable
marks out clearly if a bike can be taken on a service or not or if a reservation is necessary. See Figures 1 & 2 below. If the service shows no bikes on the time table that means the company operating that service does not allow bikes on it. They have their reasons, but they are the rules.

Figure 1: SZU Service Uetliberg clearly showing no bikes allowed.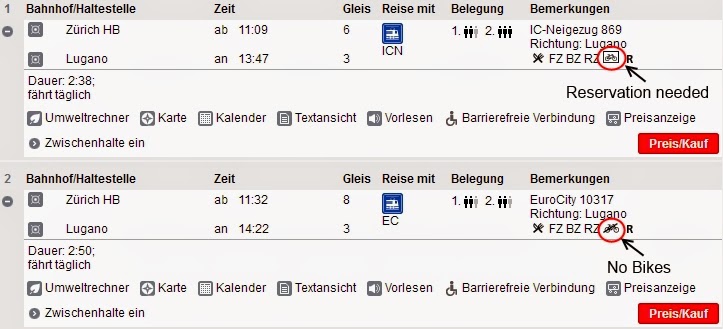 Figure 2: Services from Zurich to Ticino showing reservation needed (upper red circle) and No Bikes allowed (lower red circle).
Postbus:
Many of the Yellow Postbuses also have racks for 5 or 6 bikes on the back. In many cases these buses should be reserved in advance. Routes such as the inner Alpine passes (Furke, Nufenen, Gothard etc.) require this, but sometimes if there are no bikes reserved and the bus driver is friendly you might be allowed to take a bike on without a reservation. The bus to Moosalp in Wallis will not take any reservations and getting a bike on is on a first come first served basis with a maximum of six bikes per trip. A new trailer is being tested in Graubunden on selected routes at the moment which will increase the bike carrying capacity and a trailer can be ordered for larger groups on certain routes in Lower Wallis. The special requirements can usually be seen on the SBB time table by the symbol of a bike in a box (see above). Bikes are only taken according to capacity. Further information can be found on the
Postauto website
.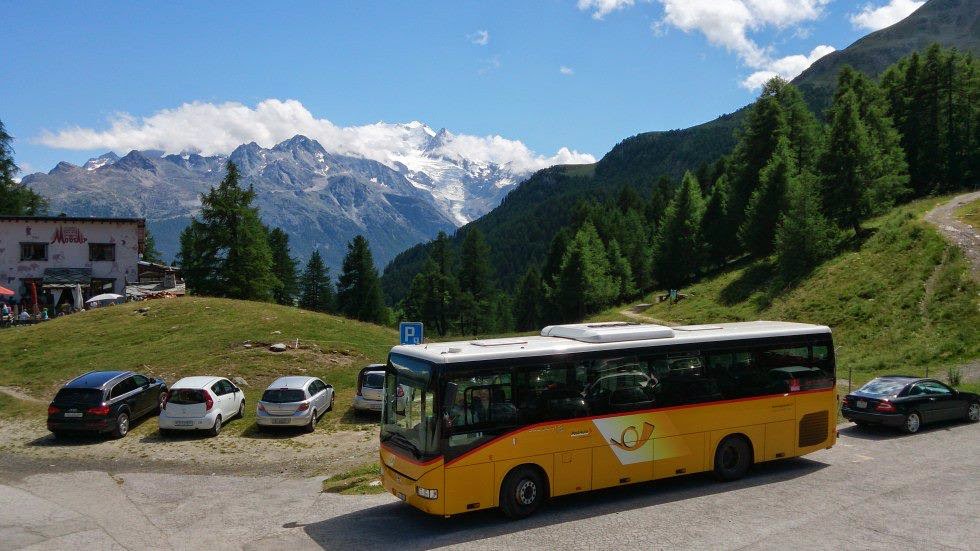 The perfect bike shuttle. Here the Moosalp Postauto in Wallis can provide hours of fun.
Boats:
Many boats also allow bike transport if space is available. This can sometimes be a nice way to get back to the start of a tour in some situations.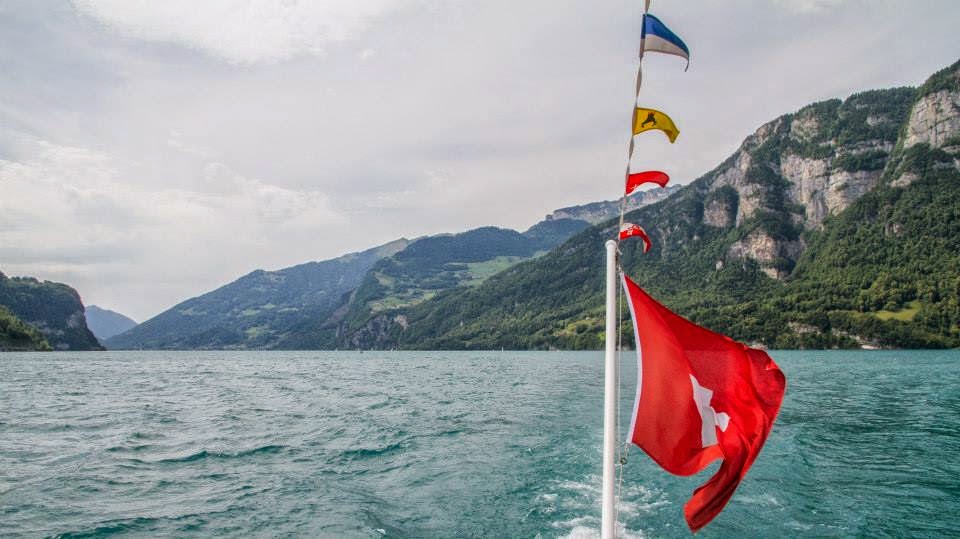 Boat shuttle. Using a boat to get back to the our start point after completing a tour.
Priorities – Baby Buggies/Prams:
There is no guarantee of being able to take your bike on the train on any service, but if there is enough room then there is a prioritisation system that most people don't know about. Hand luggage is always carried with only a few exceptions (Bikes in Transa bags are hand luggage, exceptions such as EC trains and the SZU train to Uetliberg exist). Prams and babies buggies when they are folded up also count as hand luggage. However bikes and baby buggies left unfolded are not hand luggage! That means baby buggies need to also pay 12CHF (with Halbtax) ticket to be taken on the trains. If a baby buggy is on the train, does not have a ticket and is not folded up your bike has priority over it!
Source
Luggage:
In Switzerland it's possible to do multi-day bike tours without having to take your luggage with you on the bike. Thanks to the system in place here there are many train stations where you can bring your luggage in the morning and for 22CHF send it to your destination train station where you can pick it up in the evening. More information
here
.
In general we have it good here in Switzerland with respect to travelling with bikes. Where exceptions or restrictions apply it is usually with good reason. I think we should be thankful for the freedom that we do have and respect the restrictions where they apply. This article was spurred by a discussion about the SZU restrictions on carrying bikes on the Uetliberg. As a private railway operator the SZU is entitled to impose it's own rules just like any other service (Niessenbahn, Muottas Muragl, EC services, or extra fees for bikes in Luzern and Zug). The Uetliberg is a very busy place on sunny days and the train services can get so busy there is simply no space for bikes. By disrespecting these restrictions we are just giving people ammunition to use against mountain bikers as people who do not respect the rules and this could potentially lead to more bans in the future.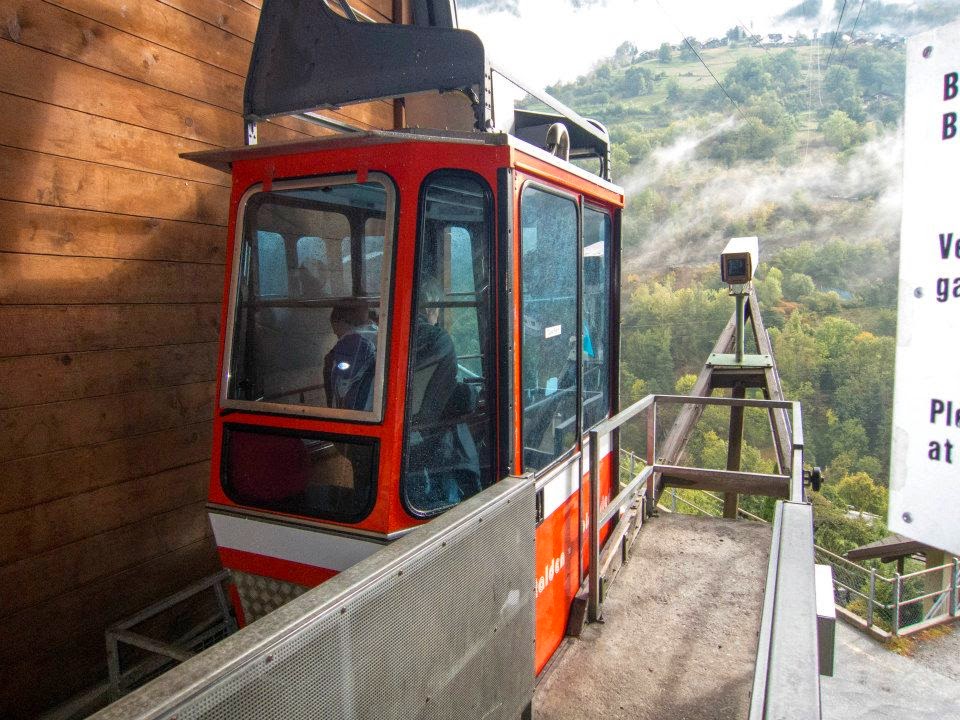 Some cable cars are in the GA network, but still require an extra payment for the bike (even with a bike GA).
I am the first person to use uplifts, trains, buses, cable-cars, funiculars or any other means to save how much I climb when out riding my bike. However, when there is a restriction or no lift to get to a trail head I have no problem with then using my legs to get me there. The trail on the Uetliberg does not require a downhill bike to be ridden safely and is easily rideable on any type of bike (I know people that have even ridden it on Cyclocross Bikes and Shopping Bikes with Baskets). It is arguably better to train your skills on a smaller bike rather than using the skill compensation of a DH bike to get down it.