Date/Time
Date(s) - 02 Apr
10:00 am - 4:00 pm
Location
Baar Bahnhof
Cost
Free
The time has just changed and the evenings are getting longer. Let's enjoy the first longer day of 2023 and drag our bikes out of the cellar, dust them off, and start bike season. 
We will meet at Baar Train Station at 10 am (don't forget to change your watch before going to sleep!) and depending on the weather/snowline ride up towards either Aegeri, Raten or Zugerberg to get our legs spinning and play on what trails are available to us early in the season. The exact route will be decided on the day once we know how high it is possible to go with bikes.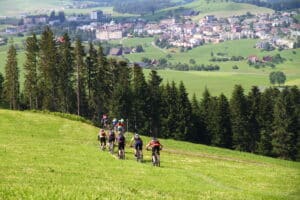 The tour will take in a wide variety of terrain but in general, it will be in the S0 to S1 scale so quite suitable for beginners/intermediate, but some short sections may need to be walked.
Cost:
Free
Getting there:
Train:
9:35 IR75 from Zurich HB to Baar (Arriving 09:56)
Meeting Point:
In front of the train station, Baar at 10:00 am.
Insurance is the responsibility of the participant, by RSVPing "yes" you agree to act responsibly at all times on this event and to not hold Swiss Alpine Adventure or any person involved responsible for any injury or loss which may occur in relation to the event.

We also encourage participants to have cancellation insurance in case they can not attend events at the last minute due to illness, injury or any other reasons. We cannot give refunds for cancellations within the last 30 days before the event starts.
Disclaimer:
All participants take part in events or activities facilitated by Swiss Alpine Adventure entirely at their own risk. Swiss Alpine Adventure does not accept liability for damage to property, death or personal injury that may occur whilst taking part in activities or events organized by Swiss Alpine Adventure. It is your responsibility to make sure your equipment is maintained and in safe working order. We reserve the right to stop you from participating with us if your equipment is badly maintained or not in safe working order. Whilst we endeavour to make sure that the information on this website pertaining to routes and trails is correct, we do not warrant its completeness or accuracy.
Bookings
| | | |
| --- | --- | --- |
| Max Participants | Booked | Pending |
| 10 | 9 | 1 |
Make a reservation
Please remember to log in prior to making a booking for an event if you are already registered with us.
Categories